News
---
Back to News Articles
RCBH congratulates Cocopah Indian Tribe Members for completing trainings at CHC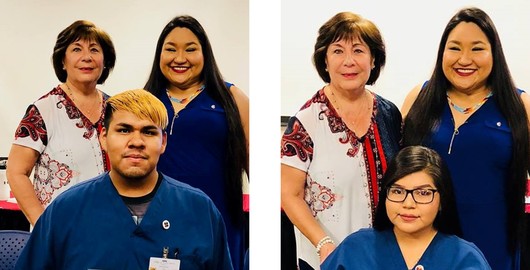 Both Ms. Aguirre and Counciwoman Long were glad to share the Cocopah Indian Tribe sucess
Yuma, Arizona.- On Wednesday, August 15th, 2018, the Regional Center for Border Health, Inc./College of Health Careers celebrated a Graduation Ceremony, where two Cocopah Indian Tribe Members Dominic Dugan and Abigal Valenzuela were part of two careers.
Ms. Amanda Aguirre, President and CEO of RCBH, and Ms. Rosa Long, Cocopah Tribe Councilwoman, congratulated Mr. Dugan for completing his training as a Certified Nursing Assistant.
Ms. Aguirre and Ms. Long also congratulated Ms. Valenzuela for completing her training as a Medical Office.
This is a great story of success made possible with the continuous colaboration between RCBH and the Cocopah Indian Tribe.